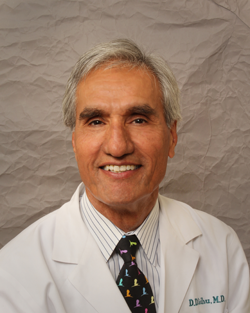 About
Family:
Married, with two gorgeous children (who both work for Desoto Children's Clinic) and three even more gorgeous grandchildren
Medical School:
Government Medical College in Amritsar, India – formerly known as Glancy Medical College
Pediatric Training:
Pediatrics at Christian Medical College, India, 1972-1973
Pediatrics at St. James Hospital, London, England, 1974-1975
Pediatrics at Eastern Virginia Medical School, Norfolk, Virginia, 1976-1978
Board Certified:
Diplomate, American Board of Pediatrics, 1980
Practice Experience:
Dr. Sidhu started this practice in 1978 with a dream and a simple philosophy of providing quality pediatric care to the area population. For 20 years, Dr. Sidhu's practice was the only pediatric practice for 90 miles along the 1-55 corridor, from Whitehaven, TN to Grenada, MS.
Both Desoto Children's Clinics and Senatobia Children's Clinic have continued to provide high-quality healthcare since then, having expanding scope and service by adding more physicians and locations to the group. Dr. Sidhu's practice has now grown to two locations and Six Board-Certified Pediatricians.
Practice Highlights:
Started the pediatric/newborn service at Baptist-Desoto Hospital since the initial opening of the facility and provided Neonatology coverage for 10 years.
UT Faculty:
Medical Interests:
Neonatology and Pediatric Infectious Diseases
Hobbies and Other Interests:
Dr. Sidhu has a passion for learning (and mastering) new things! He is an avid cyclist and golfer, and is also an accomplished Tennis player. (In his youth, he competed at the national level in India in the sport of Table Tennis!) He's achieved the rank of Black Belt in the practice of Tae Kwon Do, and also enjoys digital photography, hiking, skeet shooting, horse-riding, yoga, gardening, and traveling. Dr. Sidhu also loves spending time with his family.
Favorite Sports / Sports Teams:
Golf, Tennis, Cycling are his favorites, but Dr. Sidhu really enjoys all sports!