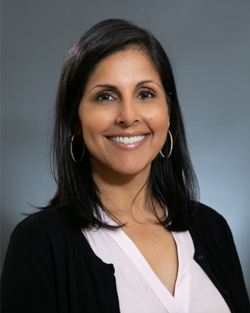 Assistant Practice Manager
Family:
I am Dr. and Mrs. Sidhu's daughter, and I'm so lucky to work alongside my brother and Practice Administrator, Reuben. (We both grew up with Desoto and Senatobia Children's Clinics as practically a third sibling, so to say that the clinics is a part of my "family" is absolutely a true statement!) I live in Denver, CO, and am married to an amazing man, and we have been blessed to have two pretty awesome kids; a son and a daughter.
Undergraduate:
Major – International Relations, Bachelor of Arts, Georgetown University, 2000
Minor – Spanish and Business
Graduate School:
International Masters of Business Administration, Daniels College of Business at The University of Denver, 2002
Practice Interests:
I've had the good fortune to be able to grow up with our amazing clinics, watching Dr. Sidhu (aka "Dad," to me) and his providers and staff take care of the littlest ones (and their families) in our community. I am dedicated to our patients, their continued health, their families, and their experiences in our clinics. Families are so important! Today's kids are tomorrow's adults…and they are our future!
Hobbies and Other Interests:
I enjoy exercising and being physically fit. I love my family and my friends, and I have a passion for volunteering in my community. I love cooking, as well as reading and learning new things. I feel we can learn so much from each other – probably why I so enjoy meeting new people and making new friends!
Favorite Sports / Sports Teams:
I enjoy running, and like playing tennis and golf. I love watching any sports that my kids are playing. We also like MLS (soccer), and the Denver Broncos!